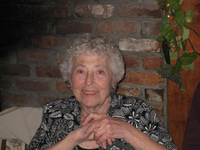 Lucy Rose Nenni
Colonie - LUCY ROSE NENNI, forever resident of West Albany, died peacefully surrounded by family on April 24, 2022 at 102 years of age.
She is preceded in death by her parents, Anthony and Rosemary Scaringe; her husband, Oscar; daughter, Teresa; son, Joseph; great grandson, Nicholas and all of her eleven siblings.
She is survived by her daughter, Anne Marie Whiteley (and Dave) and her daughter, Rosemarie Nenni (and Sheila); her grandchildren, David Whiteley, Michael Whiteley, Mary Nescott, CJ Barber, Philip Nenni, Elizabeth Nenni and their spouses and children.
A funeral mass will be celebrated at Christ Our Light Church, 1 Maria Dr., Loudonville on Friday April 29, 2022 at 10:00AM. Lucy will be laid to rest at Our Lady of Angels Cemetery.
In lieu of flowers, donations will be gratefully accepted and can be made to Christ Our Light FOOD PANTRY or St. Judes Children's Research Hospital.